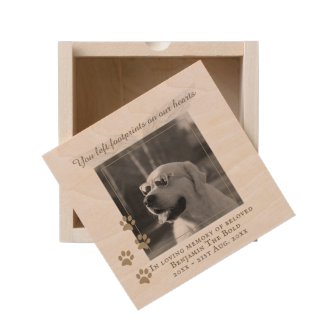 As an animal lover and pet homer (3 cats, a rabbit and a dog presently) I have had to say goodbye to a few four pawed furry family members over the years.
Note that I said 'pet homer' and not pet 'owner'. We don't 'own' pets, I believe they choose us via mysterious never to be understood means and come into our lives during times of great need. This is certainly the case for those animals that share your home and for whom you form a deep attachment.
Wooden Dog Photo Memorial Custom Text Keepsake Box
fleece blanket made with a paw print pattern and his photo
along with a few words to act as a keepsake that I can seek comfort from.
Being a tactile item I can look at it and wrap myself in it when remembering how Fred and I would 'spoon' on the sofa. He was such a lovely big old boy, I'd lie behind him and together the two of us stretched out full length would just about fit.
I have also kept a lock of his fur which I may sew into the corner of the
blanket
.
I don't think it's morbid to remember ones family dogs this way, we must each do what we feel is neccessary to bring comfort. My surrounding myself with more pets is a wonderful distraction but not a replacement for my dear Fred. We can no more replace family pets than we can people.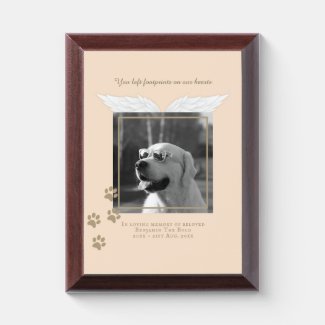 With this is mind I have been busy today designing simple yet sympathetic dog memorial keepsakes which include photo plaques, keepsake boxes, mugs and more.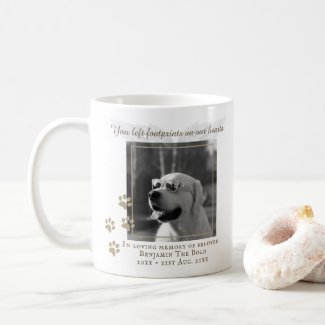 The memorial keepsakes allow you to add a a photo of your family dog, their name, dates of birth and death along with other verse, quote details as desired. Have a look and drop me a line if you require any assistance or a different pet, animal theme.
Dog Memorial PHOTO Keepsake Gift - Add Text Coffee Mug